Vision & Values
Our Vision
Our core purpose, is to prepare students for the next steps in their lives and equip them with the skills, qualifications and knowledge to become high-achieving, well-rounded individuals, thus enabling them to reach their potential and achieve their aspirations and goals.
Personal Development is critical for students' current and future success: we support our students to develop confidence, self-discipline, flexibility and resilience through our curriculum, extra-curricular opportunities and our leadership programme.
We are an inclusive and diverse community that respects others' differences and promotes understanding and tolerance of others' beliefs. This is reflected in our broad and balanced curriculum, which reflects students' aspirations and future local, national, and international career opportunities.
We strive for Success for All: for the students who learn here, the parents who choose to send their children here and the staff who work here. In return, we offer students and staff an innovative, progressive, challenging but supportive environment in which to thrive.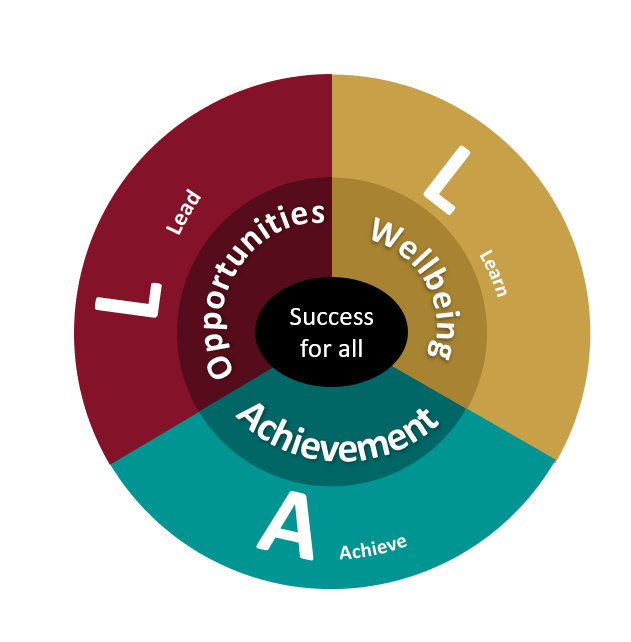 Our Values - The Three R's
Our 3R's of Respect, Responsibility and Resilience reflect our ethos.
Respect is one of the cornerstones of The Elizabethan: respect for others, respect for others' beliefs and respect for others' differences. Just as critical, however, is self-respect and self-discipline. Students are expected and taught to take responsibility for their actions and their learning.
Building student resilience is vital to support student mental health and wellbeing. They need the confidence, courage and self-belief to show strength of character when things do not go to plan.
British Values
At The Elizabethan Academy we believe that everyone is unique. Our core values of respect and tolerance to all is something which we as a school are immensely proud of. At The Elizabethan, we have been promoting British Values to all students in line with recent guidance from the DfE.
The DfE has reinforced the need "to create and enforce a clear and rigorous expectation on all schools to promote the fundamental British values of democracy, the rule of law, individual liberty and mutual respect and tolerance of those with different faiths and beliefs."
The Government set out its definition of British values in the 2011 Prevent Strategy, and these values have been reiterated by the Prime Minister. At The Elizabethan Academy these values are reinforced regularly throughout all year groups during Personal Development and Careers lessons, as well as through the curriculum in many subjects.
There are five main areas which we focus upon at the Elizabethan to promote British values:
Democracy
Pupils are taught the fundamentals of democracy from Year 7. This then develops into how Britain is a democratic country and the advantages of living in a democracy compared to a dictatorship. This enables our pupils to have an appreciation for the democratic system in the UK, how it works and the importance of getting involved.
We also promote democracy within our school by voting for House Captains, Sports Captains and other leadership posts. This allows pupils to understand the voting process and how democracy works first hand. We have an active School Council which is an avenue pupils use to have their voices heard.
The Rule of Law
The importance of Laws, whether they be those that govern the class, the school, or the country, are consistently reinforced on a daily basis and through school assemblies as well as when dealing with behaviour issues. Pupils are taught the value and reasons behind laws, that they govern and protect us, the responsibilities that this involves and the consequences when laws are broken. Visits from authorities such as the Police, Fire Service and the Ambulance Service feature regularly in our calendar and help reinforce this message. The concept of the Rule of Law is also reinforced through teaching activities in our Personal Development and Careers curriculum. Through these lessons we explore the changing attitudes of law enforcement and punishment through the years in Britain and we discuss the laws which govern other countries.
Individual Liberty
Within school, pupils are actively encouraged to make choices, knowing that they are in a safe and supportive environment. As a school, we educate and provide boundaries for young people to make choices safely. Pupils are encouraged to know, understand and exercise their rights and personal freedoms and we advise how to exercise these safely, for example through our E-Safety and Personal Development lessons. Whether it is through choice of challenge within lessons or participation in extra-curricular clubs and opportunities, pupils are given the freedom to make choices.
Mutual Respect
Part of our school ethos and behaviour policy revolves around core values such as 'Respect', and students have been part of discussions and assemblies related to what this means and how it is shown. These ideas are reiterated through the school and classroom rules, as well as our behaviour policy. In Personal Development and Careers sessions we cover the importance of having respect for all humans regardless of their race, religion, gender, sexuality and personal belief. We believe that living in a multi-cultural society with harmony and peace is vital to building strong communities. We therefore ensure our students develop a deep sense of mutual respect between each other, staff and the wider community.
Tolerance of those of Different Faiths and Beliefs
This is achieved through enhancing students' understanding of their place in a culturally diverse society and by giving them opportunities to experience such diversity. Assemblies and discussions involving prejudices and prejudice-based bullying have been followed and supported by learning in RE and PD&C. We cover a range of areas which focus upon the importance of tolerance. Our aim is to ensure that pupils understand that even though someone may have a different faith or hold contrasting views compared to their own, we must still respect them. Pupils and staff of different faiths or religions are encouraged to share their knowledge to enhance learning within classes and the school.