MP celebrates expansion plans with local secondary school, The Elizabethan Academy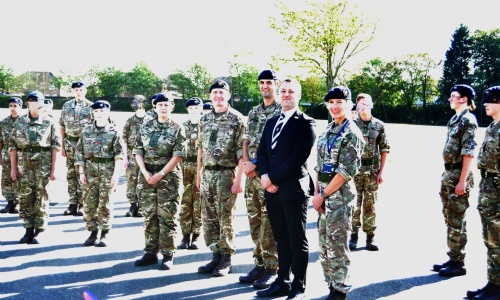 The Elizabethan Academy is proud to provide young people in Retford with a wealth of opportunities, the highest quality teaching, excellent pastoral guidance and a springboard to university, training, and the world of work.
The school's Sixth Form aims to challenge and support students every step of the way, ensuring they succeed both personally, academically and become responsible, informed adults who make positive contributions to the community and wider society in which they live and work.
Recently the government announced the outcome of Wave 3 of the T Levels Capital Fund application round. Following a rigorous assessment process, the department has approved £50m of capital funding for 65 projects across 51 providers with The Elizabethan Academy being one of those who were successful with funding.
The funding recently announced is part of over £250m in capital funding the Government has made available so far to support providers delivering T Levels in 2020, 2021 and 2022, alongside up to £500m a year in additional revenue funding once T Levels are fully rolled out.
Principal, Christine Horrocks said "Whilst we offer a wide range of courses, we also recognise that not all students wish to follow the traditional A Level route so from September 2022, we are thrilled to start to deliver the new T Level qualifications. T Levels are equivalent to 3 A Levels with an extensive industry work placement opportunity complementing school study.
The first T Level offered by the sixth form will be Digital Production with more courses due in the following years. Having secured extensive Government funding, our T Levels will be taught in a newly constructed, purpose-built building that will be fully equipped with industry standard equipment to ensure all students experience industry standard training."
Bassetlaw MP, Brendan Clarke-Smith said: "During my visit to The Elizabethan Academy, I was really impressed to hear more about the T-Levels funding and how this will help the school and their future projects.
T Levels represent a significant reform of our technical education system. These prestigious qualifications have been designed with input from over 250 employers, giving them real currency in the labour market and ensuring more young people from all backgrounds have access to skilled work or are able to progress to higher education.
I am encouraging local employers across Bassetlaw to get on board with this brilliant new qualification to ensure its continued success and investment in our next generation."
Mr Dainty said: "It is an exciting time in the history of our sixth form and if you are a hard-working individual who wants to develop academically and personally and who wants to join a vibrant, student-centred, forward thinking sixth form then we would encourage you to visit our Sixth Form Open Evening in November."