The Elizabethan Academy celebrates students' Going for Gold...and is pleased to report some outstanding achievements by our students in their GCSEs and other qualifications this summer.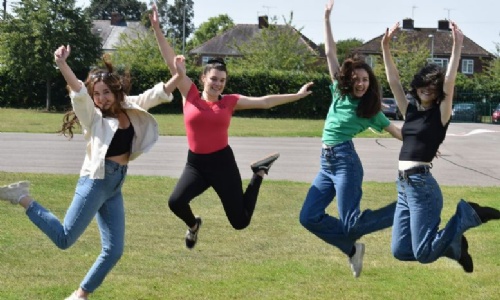 We are immensely proud of all the work and achievements of our students, especially after such a difficult and challenging year. The Summer Term has been very different following the cancellation of exams, and as always, our students have risen to the challenge and have completed a truly staggering number of assessments instead. Staff and parents have worked tirelessly to support students to ensure that they are prepared to progress onto the next stage of their education.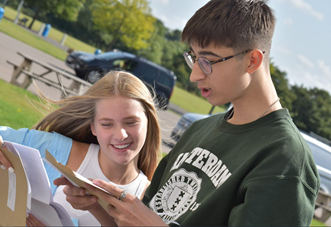 We have record numbers achieving top GCSE levels of 8 and 9 and have seen an improvement in the number of boys achieving these top grades which bucks the national trend for previous years.
We are extremely pleased that the numbers of students achieving a grade 4 or 5 at GCSE in English and Maths has also increased, which is vital for future progression. Principal Christine Horrocks stated, "I am so proud of all our students at the Elizabethan, as an Academy we believe in supporting and challenging students to achieve their full potential. It is vital to us that all students can progress onto their next stage ready to realise their career goals. I am particularly proud of the resilience and determination this year group have demonstrated, despite the disruption to their studies caused by the Covid pandemic, and I am looking forward to welcoming so many of them back into the Sixth Form."
Notable student performances and quotes from the day:
Beth Ellis - 4x grade 9's, 4 x grade 8, 1 x Distinction*, 1 x grade 7
"l am ecstatic and proud of all the hard work that l put into achieving these amazing results, l would just like to say thank you to all the staff for their support. l am looking forward to studying Biology, Chemistry and Sociology at the Elizabethan Sixth Form."
Michael Edems-Eze - 7x grade 9's, 1 x grade 8, 1 x Distinction*, 1 x grade 6
"l am really happy with my grades; I have put a lot of hard work into preparing for my assessments and it has paid off"
Erica Bugdoll - 6x grade 9's, 2 x grade 8, 1 x Distinction*, 1 x grade 7
"l am feeling glorious, really surprised but very happy, thank you to all my teachers for their support, l am really looking forward to starting at Sixth form in September."
Makar Babenko - 6x grade 9's, 3 x grade 8, 1 x Distinction*
"l wasn't expecting these amazing results, l am so pleased and proud. The Elizabethan has served me well and l have really enjoyed being a House Captain at the school. I want to thank everybody for their support"
Laura, Jessica and Olivia Taylor (triplets!)
"We are all truly speechless, we have all worked really hard and have achieved amazing results."